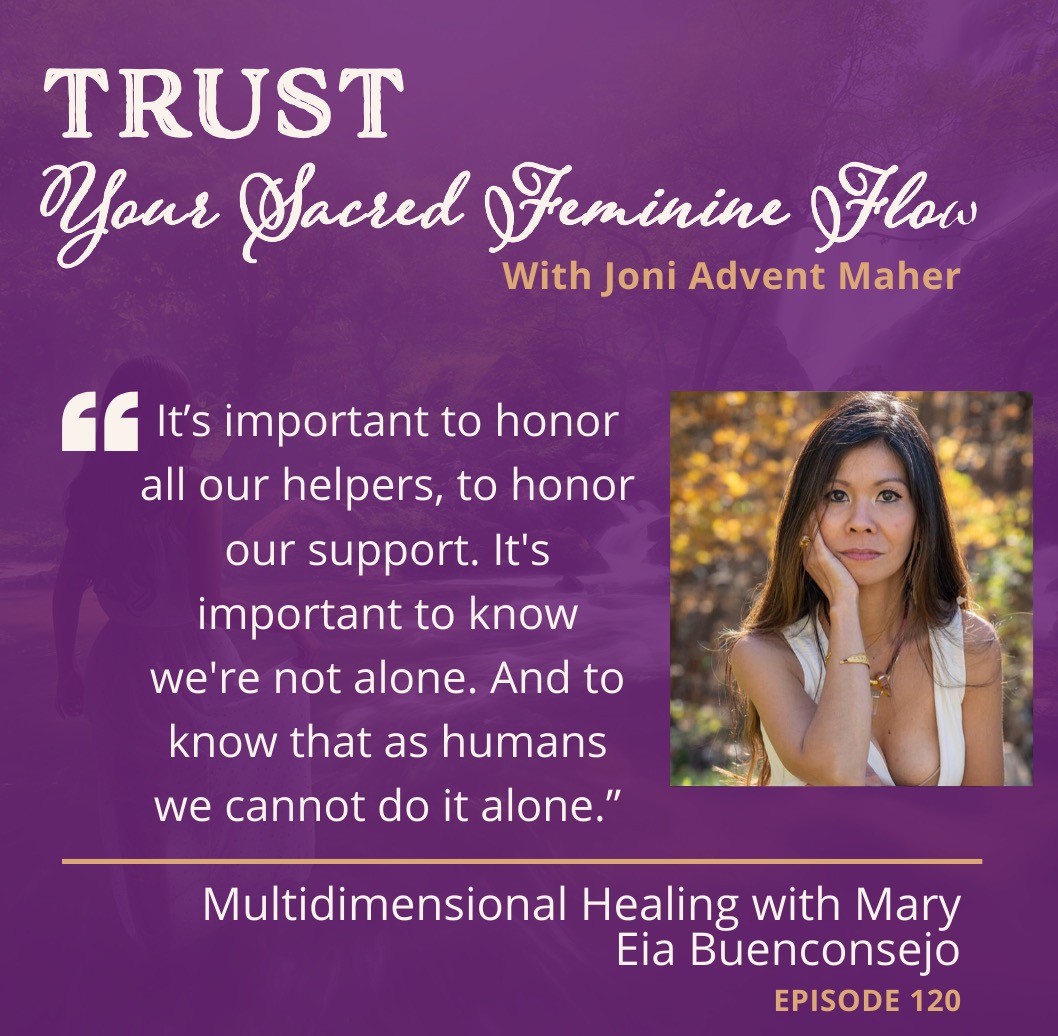 Welcome to Trust Your Sacred Feminine Flow. 
Each month on the podcast, I share intimate conversations with (r)evolutionary women about their journey to embody their sovereignty and change the world. 
Eia is a multidimensional medicine woman – a seer, a psychic, a wholeness energy healer, and a holistic physical therapist – who has been practicing for over 18 years. 
She believes that for women, being a healer is our birthright! 
This is why she is deeply passionate about helping medicine women step into their multidimensional power so that they can fully access their gifts and abilities as a healer and serve others.
Born with psychic gifts, abilities, and a deep-rooted connection with the natural magical world we live in, Eia, has been using these abilities for nearly two decades to help individuals experience healing at a cellular and soul level. 
Incorporating ancient healing systems and her unique Light Source Connection method, Eia brings individuals back to a sense of wholeness, awakening their soul's blueprint and subtle energy system in order to remember, repair, align, restructure and repattern the soul body to heal and awaken.
Eia is also a speaker, her message sounding an urgent clarion call for us ALL to Awaken The Ancient Healer Within — for ourselves, for the planet, and for our children's children. Her talks encourage courageous exploration of our pain, shadows, and disconnection so we remember who we are and our deep connection to Mother Earth, each other, and to ALL sacred living beings. 
She is a steward of this sacred magical land in upstate New York and holds transformational private healing immersions and retreats at her Sacred Earth Healing & Retreat Center and She recently opened Anima Illuminare Mystery School~ teachings and gathering in sacred circle of medicine women where they not only journey through the magical realms of spirit and the multidimensional world but begin to connect deeply to the rhythms of Mother Earth. Healing, unblocking, clearing layers of their being so that they can heal others and the planet.
During this episode we discuss: 
~Our call to embody our Inner Healer's
~Our Divine Blueprint
~Resources for our healing
~ The role of Fairies, Devas & the Little People of the earth.
~ Eia shared a song of the Spirit
Listen with your heart.
https://lightsourceconnection.com/ 
To access Eia's Free Gift: https://www.dropbox.com/s/7ss67qazw2hl07s/FREE%20PODCAST.mov?dl=0